Home > index of woodworking clamps >bar clamps
Bar Clamp & Spreader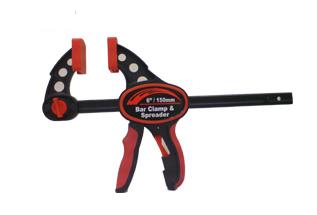 Feature :
1) Soft TPR design makes the grip more comfortable and stylish.
2) Turn round screw knob quickly converts from clamp to spreader without any tools.
3) Patented pistol grip design enhances comfort and ease of use.
4) Non-marring pads grip firmly and protect workpiece.
5) Ideal for clamping, spreading, gluing, holding work for sawing/drilling , welding and positioning work for fastening.
ITEM NO.
CLAMPING CAPACITY
THROAT DEPTH
105-LL-6PT
6"/6-1/2"~13-3/4"
150mm/165~350mm
85mm
105-LL-12PT
12"/6-1/2"~19-5/8"
300mm/165~500mm
85mm
105-LL-18PT
18"/6-1/2"~25-1/2"
450mm/165~650mm
85mm
105-LL-24PT
24"/6-1/2"~31-1/2"
600mm/165~800mm
85mm
105-LL-36PT
36"/6-1/2"~43-3/8"
915mm/165~1100mm
85mm